agCensus
Changing the field
agCensus is a unique agricultural census time-series database for England, Scotland and Wales developed by EDINA at the University of Edinburgh.
Are you an academic institution? Visit agCensus in
Digimap (opens in new window)
About agCensus
agCensus offers access to a time-series database of grid square based data derived from the regular Agricultural Censuses of England, Scotland and Wales.
The Agricultural Census is conducted in June each year by the government departments dealing with Agriculture and Rural Affairs for Scotland, England, and Wales.
Farmers are surveyed in each year via a postal questionnaire, with the farmer declaring the agricultural activity on their land. In Scotland the census covers all major agricultural holdings, but in England and Wales a stratified sample of holdings are surveyed.
Data for non-surveyed farms is extrapolated from previous years and trends on comparable farms. The respective government departments publish information relating to farm holdings for recognised geographies for c.150 items of data.
Algorithms developed by EDINA convert small area data provided by the government agencies into grid squares of 2, 5 or 10 km.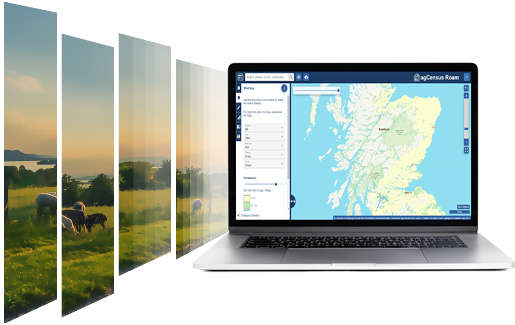 Unlock the potential of agricultural data
This is how agCensus can help you
Grid Representations
agCensus data is standardised in 2, 5 and 10km grid representations, so you can visualise data consistently.
All-in-one platform
agCensus brings together data from Scotland, England and Wales into one easy cloud service, so you don't need to source data from multiple government agencies.
Clear licensing
In developing agCensus, EDINA have checked all licensing conditions with source agencies — we make it clear what you can and can't do with the data.
Easy to view
agCensus data is ready for you to view in your own GIS, no need to manipulate tables of data — it's GIS-ready.
Ready to present
agCensus data enables you to create a high-quality map layout ready to insert into any report or presentation.
Historical data
agCensus raises awareness of what agricultural data exists across Scotland, England and Wales going back multiple decades.
Data
agCensus data are available for a range of different spatial resolutions and time periods.
agCensus offers access to a time-series database of grid square based data derived from the regular Agricultural Censuses of England, Scotland and Wales.
The data for England and Wales are only available separately from 1999.
Prior to 1999, the data for England and Wales are grouped together.
More items may be available for a single country than for Great Britain as a whole. Our core products are produced at 10km, 5km and 2km resolutions for all years, except for England 2010.
The table gives an overview of the data available.
For more information, please contact us here (opens in new window)
Click here to download our complete data catalogue
| Region | Years Available | Exceptions |
| --- | --- | --- |
| Great Britain | Harmonised sub set of variables for specific years: 1969, 1976, 1981, 1988, 1994. | |
| England | 2000, 2003, 2004, 2010, 2016 | 2km data not available for 2010 and 2016 |
| Wales | 2000-2018 | 2001 |
| Scotland | 1969-2019 | 1970-1978; 1980/83/87; 1998/1999 and 2002 |
What type of data are available?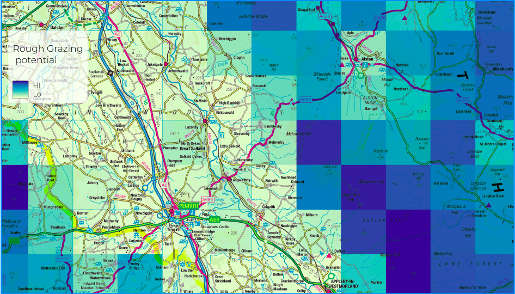 A wide range of census variables are available. These vary by year and nation and include:
Cattle
Crops and Fallow
Farmers and workers
Beehives
Horses
Pigs
Poultry
Sheep
Soft fruit
Vegetables
...and many more
The data help understand what was produced, the quantities and their origin.
Data can be supplied in a variety of formats including csv, shapefiles and geotiffs.
Click here to download our complete data catalogue
Getting the data is easy
How can we help?
Please complete the form to talk to one of our data experts for any questions related to:
Data information and availability: e.g, country, type of data and year
General enquiries (e.g. invoicing)
Quote requests
We will contact you as soon as possible.
Visit our website here (opens in new window)
Who we are
EDINA are specialists in developing and delivering digital products including large-scale online services, mobile apps and digital tools for education.
Our expertise includes geospatial and satellite data, computational learning, text and data mining, e-preservation and machine learning. We have over twenty years' experience and a proven track-record of collaborating on innovative projects and service delivery across the full digital lifecycle; employing an agile, customer centric approach, to design, develop, test and deploy scalable digital solutions.
An organisation rich in data expertise, we work closely with customers in the private, public and education sectors.
Visit our website here (opens in new window)